The ENO logo was designed by TUESDAY in 2016 and redesigned by the company in 2022.
The wings sign in the ENO logo is based upon the 'Flügelkreuz', a polyvalent symbol developed by Swiss visual artist Daniele Buetti in the 1980s. For us, it signifies openness, imagination and creativity. We thank Daniele for allowing the use of the 'Flügelkreuz' in our logo.
>> An interview with Daniele Buetti!
The Evolution of the ENO Logo
2016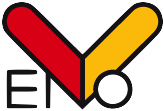 2022